2019 Infiniti QX80 Limited 4WD Review & Test Drive
[ad_1]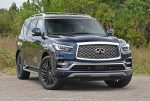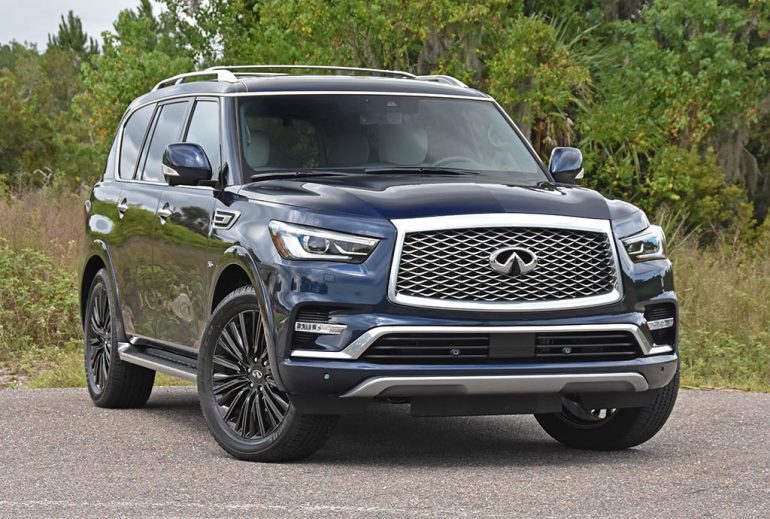 The Infiniti brand is on a new path to gain a better footing within the automotive market with their line of SUV/Crossover vehicles. After having reviewed the new QX50 and recently updated QX80 there is no doubt that Infiniti is serious about the business of capturing the elevated sales in such a growing segment. Moreover, after getting a second look at the QX80 for the 2019 model year, most of what I had to say about the massively-sized SUV still rings true and furthers the quest for Infiniti to gain recognition of building well-rounded SUV/Crossover vehicles.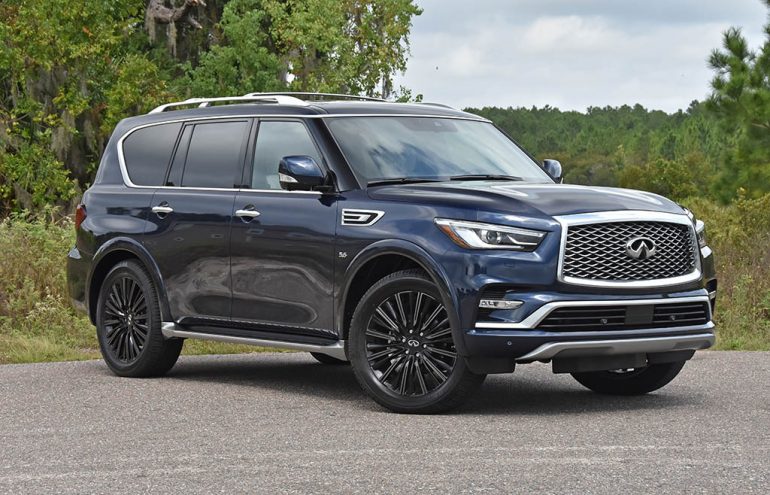 See Also: 2018 Infiniti QX80 4WD Review & Test Drive
Much of what I remember from my 2018 QX80 review in its top-trim level at the time returns to the new QX80 Limited trim, which a new trim that features exclusive styling and a standard 4WD system. The new Limited trim offers a select list of exclusive paint colors and interior trims that set it apart from the base Lux trim. Much of the change now applies the new styling of the QX80 from its large 22-inch wheels to the contrasting colors and materials used throughout the interior.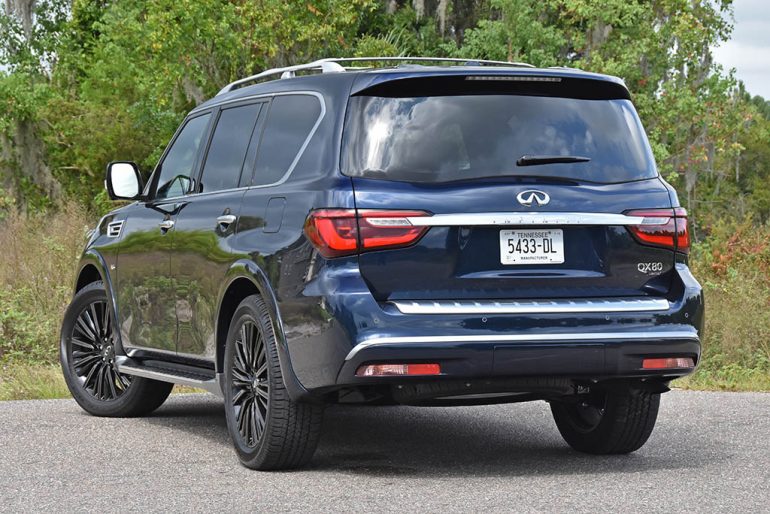 The new 2019 QX80 Limited's ride quality seems to have improved with a bit more stability. While there is nothing stated about a change in the suspension system, the QX80 remains to be mostly composed with a surprisingly smooth ride for such a large body-on-frame SUV. The QX80 Limited is absent from suspension jitters that you may find in much of its body-on-frame competition and proves to prevent motion sickness and unwanted body lean from its highly-praised hydraulic body motion control that seamlessly adapts to driving styles. The large dark-finished 22-inch forged wheels wrapped with beefy 275/50R22 all-season tires don't take much away from the ride quality despite a smaller sidewall compared to the standard 20-inch tires.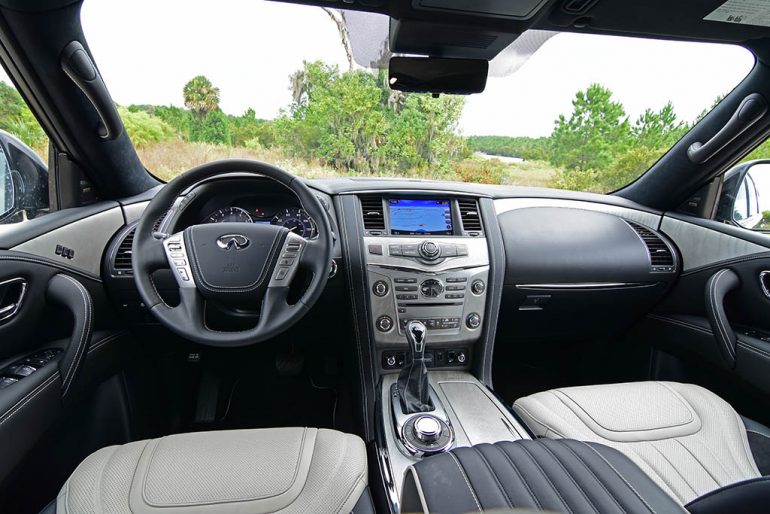 Much of what I mentioned in my 2018 Infiniti QX80 for its update continues in the 2019 model year, which features the returned 5.6-liter V8 engine with 400 horsepower 413 lb-ft of torque and mated to the proven 7-speed automatic transmission. While much of the drivetrain has aged, it has aged well to keep pace with the competition. However, where the QX80 starts to waver from the competition is in the area of fuel economy and its infotainment unit.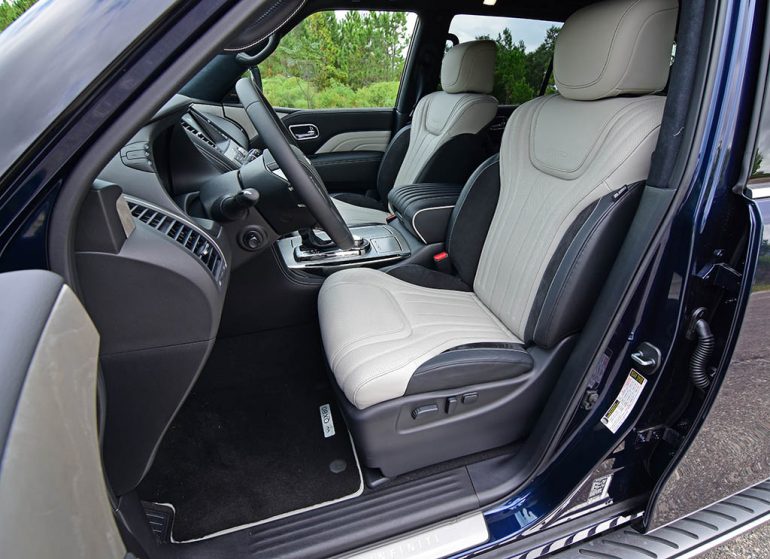 The fuel economy of the QX80 remains to be somewhat dismal getting an EPA-estimated 13 mpg city, 19 mpg highway, and 15 mpg combined. One thing that many can agree on with the QX80's thirst for premium unleaded fuel is that it burns it consistently and there isn't any big surprise when you glance down at the consumption gauge for a reading of about 15.9 mpg on average for mixed city and highway driving. Still, paying at the pump is worth the grunt work that the proven powertrain of the QX80 puts in and permits for towing up to 8,500 pounds.
One thing Infiniti is getting questionable markings for on vehicles like the QX80 is the somewhat outdated infotainment unit, that has only received minor updates in its feature sets and still lacks the availability of Apple CarPlay and Android Auto. Though, somewhat making up for the tech blunder is a plethora of active safety features that continue to virtually blanket the large-and-in-charge QX80. Many of the features come in handy to simply keep aid in parking the large QX80 with use of a 360-degree around-view camera system, forward collision warning with automatic emergency braking, autonomous forward and rear braking with cross-path detection and prevention, blind spot monitors and mitigation, and lane departure warning and mitigation.
The overall spaciousness and updated seating surfaces with a mix of contrasting colors and perforated leather surfaces that can be optioned to join alcantara-appointed surfaces. The updated interior is delightful and adds an upscale appearance and feel to the otherwise soft-touch-appointed cabin.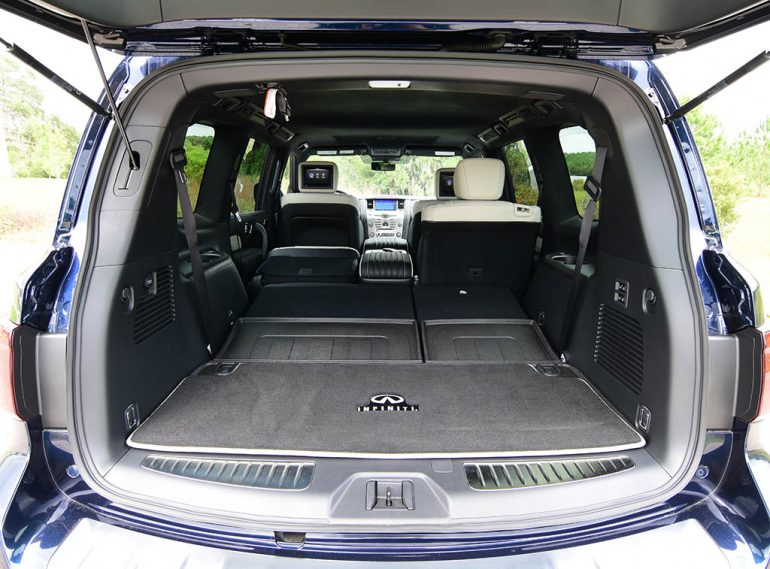 The price point of the QX80 in its top-level Limited trim keeps steady at an as-tested price of $91,450, which comes below some of its direct luxury competition.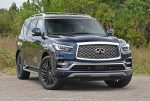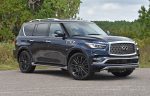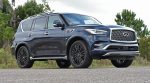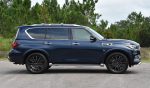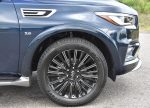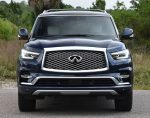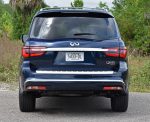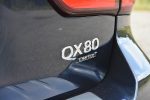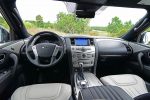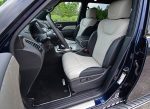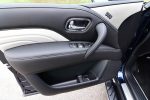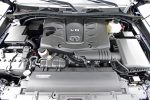 See Also: 2018 Infiniti QX80 4WD Review & Test Drive
SPECIFICATIONS
Price: Base QX80 2WD $65,100 / As-Tested QX80 Limited AWD $91,450
Engine: 5.6-liter DOHC V8 400 horsepower @ 5800 rpm / 413 ft-lbs. torque @ 4000 rpm
Transmission: 7-speed automatic
Wheelbase: 121.1 in.
Total length: 208.9 in.
Total width: 79.9 in.
Total height: 75.8 in.
Track: f/r-67.5/67.6 in.
Turning circle: 41.6 ft.
Approach angle: 20.9-degrees
Departure angle: 22.3-degrees
Fuel tank: 26.0 gallons
Headroom: 1st/2nd/3rd row-39.9/40.0/39.8 in.
Legroom: 1st/2nd/3rd row-39.6/41.0/28.8 in.
EPA cargo volume: all seats folded-95.1 cu.ft.
Max Tow Rating: 8,500 lbs.
Curb weight: 5,888 lbs.
0-60 mph: 6.4 seconds
EPA mileage: 13 mpg city / 19 mpg highway
[ad_2]

Source link
Tagged:
2019
4WD
amp
Drive
Infiniti
Limited
QX80
Review
Test